When Pigs Fly Netent slot was developed in 2016 and appeared in online casinos all over the world on 21 July 2016. Players from every country were looking forward to its arrival.
Slot machine When pigs fly, as you can guess, features charming, funny and amusing little pigs while flying. What do they fly on? Everything you can fly on! Some fly on rocket ships, some floating in open space in astronaut suits, some – pig-angels – fly by themselves on the wings of angels, and some in the role of Superman.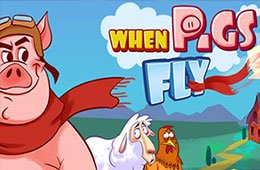 When pigs fly netent slotJust note that the graphics of the game When pigs fly is simply amazing. A colorful game with animated characters and funny sounds.
When pigs fly Netent slot comprises spinning reels, they are not quite normal: the first and fifth consist of only one row, the second and fourth – of two rows, and only the middle one – all five rows. Slowly during the game 5 rows appear on every reel. It should be noted that during rotation of the reels there are no symbols appear, and only when reels rotation stops game characters start to appear gradually before your eyes – this is one of the innovations from NetEnt. There are no pay lines here, but the number of winning combinations in this amazing game – more than 3,000! This is difficult to even imagine!
When Pigs Fly slot from Netent has bonus games and games with free spins to offer to its players. When a certain combination of symbols comes out you will be awarded with 5 free spins, and if during the free spins game you one particular game combination appears, you will get a few more FS.
Payout percentage – 97%. Betting limits – from €0.50 to €100.
Everyone was looking forward to the slot game When Pigs Fly, and the expectations of players were pretty much satisfied!