Crime slot machine called Bratva became a hit among one-armed bandits and attacked online casinos with the number of people willing to play it.
Bratva slot machine will take us to the 90's Russia, and we will be more than able to enjoy the precarious "culture". Crimson jackets, gold chains measured by kg, ignorant millionaires with a prison past, thieves, first mobile phones, casino, criminal meetings in narrow streets, corrupt police and other "curiosities" of the period.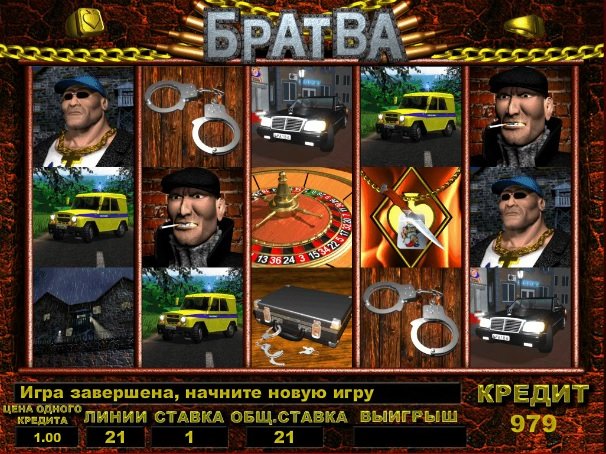 Fellowship Slot Bratva slot game was developed by Unicum company. It's a pleasure to play this game and now you will understand why.
Bratva slot machine has 5 reels and 21 pay lines. There is a great variety of symbols on this slot and they will remind you of the dashing 90's: a gun, Mercedes, a prison, a card with a knife (joker), bullets, roulette, a police car, a bandit, a thief-in-law, a suitcase with money, handcuffs, a mobile phone.
Wild symbol – joker. It replaces any other symbols except Scatter symbol.
Scatter symbol – Roulette. Three or more of these symbols at any position will provide you with multiplication of winnings.
Minimum bet – 1 credit, maximum bet – 40 credits. The price per credit – 1. You can play 1, 5, 9, 15 and 21 lines. There is an auto-spin function.
Bonus game "Thief"
When four or fivesymbols of the thief-in-law appear this bonus game starts. You have to rob a few places – shop, casino, bank, alcoholic stall and office building. In one of them alarm will be triggered. Will you manage to get away with a good staff or will you immediately fall into hands of the police? At the same time, there are two options of this bonus game. The first one – a "rough job": here your winnings will not be too big, but at the same time when hitting the alarm you will not lose what has already been won. This game is less risky. The second option – "Professional". Here you can get a really big jackpot, but also to lose all the loot if you don't stop in time.
Bonus game "Bandit"
When four or five symbols of Bandit appear another bonus game starts where you will need to steal bags. Here you are given as many chances as many bonus symbols dropped. If you steal a bag with a gun or money – you are lucky, but if you get cuffs – then you know …
Risk game
You can double each winning combination on Bratva slot machine. To do so, click the button Risk. You will need to guess which of the four thimbles have a ball – 2 of them do, 2 of them don't. If you guess – you double your money, if not – you will lose everything.
Bratva slot machine is one of the most popular slots among the Russian-speaking audience to date, but also players speaking other languages like this slot. Try your luck playing for money or play for free in demo mode.