While doing simple slot machine reviews, it is impossible to ignore gaming slot Bazaar, which became a sensation in the world of slot games. Producer of the game – company Unicum which has a lot of fans today.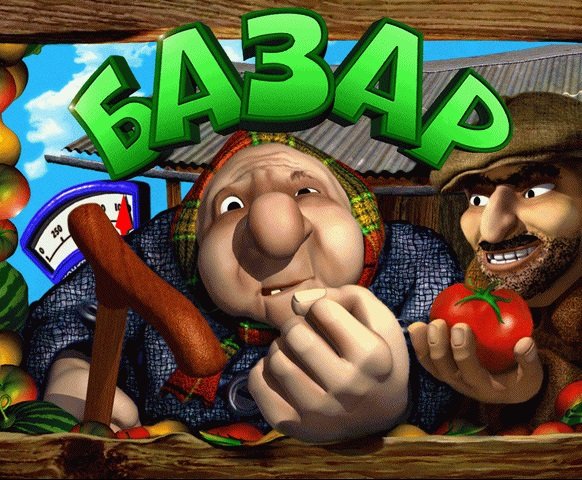 Bazaar online slotAs it is clear from the name of the game, the action will be held at the busy market where you can buy everything – from watermelon to fake «Rolex» watch, meet interesting characters like Caucasian guy with big eyebrows a bove his nose or prompt granny with eager face and a huge nose. Armenian-Georgian music and "market" sounds at the background will complement the atmosphere.
Bazaar slot machine has the appropriate symbols code: watermelon, tomato, scales, fake Rolex, ham, torn shoes, bottle of alcohol with Marlboro, granny and Caucasian. "Bazaar" is Wild symbol – it will replace all the other characters, but three: Caucasian, granny and watch.
The game has 5 reels and 21 pay lines from which you can choose just 1, 5, 9, 15 or all 21. You can put up to 100 coins. Maximum prize – $100 000 (5 grannies). There is an auto-play mode on Bazaar slot.
Bazaar slot game offers a number of bonus games. In one of them (a roll of 3, 4 or 5 symbols with Caucasian) Caucasian will weigh watermelons on a scale – depending on the weight you get a certain amount of coins. Depending on the number of Caucasians dropped you can change watermelons several times, and the number of coins won can both increase and decrease.
In another bonus game (watch symbols – from three to five) you will need to buy fake watches. First you need to choose the brand – the more expensive the riskier the game. And then you have to choose a specific model – the smaller the chance that it will fall apart right in front your eyes, the bigger the payout which also depends on your bet per line.
There is a risk game on Bazaar slot machine. If you scored a winning combination, you have the chance to double your winnings. Choose from two wallets – if you guess which of those has coins, the win will be doubled; if you select a purse with buttons and a piece of paper inside your winnings will reset.
Bazaar online slot machine is a fun game with which you will have a good time and, quite possibly, win a lot of money.