When the brave Dr. Dakota Bones, along with his assistant Farooq traveled through the boundless desert, he could not imagine that he will effortlessly detect a coveted cache of pharaohs and easily penetrate into the room which kept untold treasures and wealth for thousands of years. Dr. Bones did not take into account that these treasures ​​could not lie unnoticed and he paid for it. Once trapped in the tomb, the hero had to face a guard of this place – the mummy who is able to devour any who encroaches on the treasures of the ancient rulers.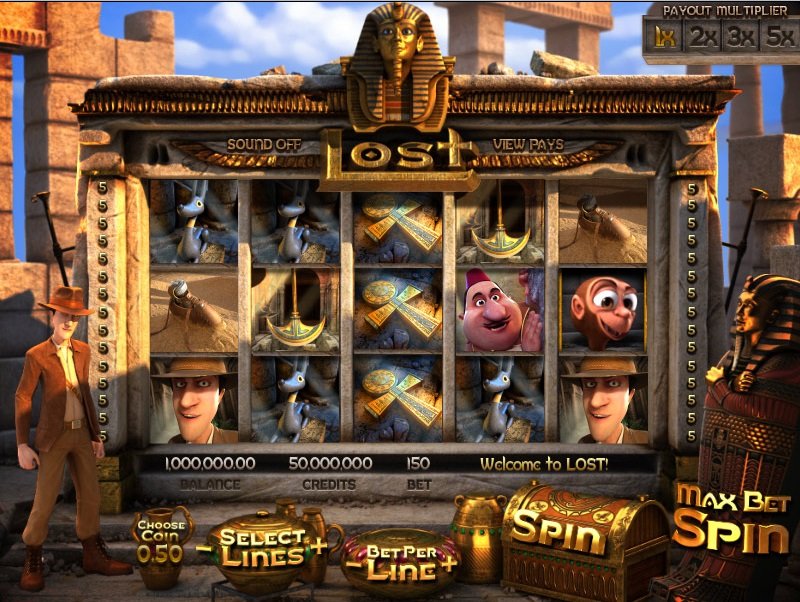 Lost online slotLost slot machine was created by Betsoft. You need to bail out the researcher and his faithful assistant of dangerous traps. If you will not manage to help the cheerful heroes, very soon they will fall into the bony hands of the custodian of this place and will remain in the treasure room forever.
Lost slot features
Perhaps every gambler at least once in his life was was spinning on one of many slot machines dedicated to the treasures of Ancient Egypt. And although there are really a lot of slot machines with this topic, developers from BetSoft company managed to construct a truly unusual and attractive slot. The slot carries guests to a realistic virtual world and offers to feel the horror of immortal beings and the sweet taste of victory for yourself. Note that you can spin the reels in trial mode which allows you to play Lost for free, without registration.
Lost slot game has 5 reels and 30 pay lines. The slot machine is unique not only by its design but also by technical features. For example, for every successful spin players receive a free chance to earn additional award – as soon as a sum of money enrolled, the central reel self-launches automatically.
Game symbols: the main heroes, the mummy, a dog, a tomb and others.
Minimum bet – $0.02, maximum bet – $150. You can bet on 1, 3, 7 etc. till 30 lines at the same time. The is an auto-spin mode in the game. There are payout multipliers from 1x till 5x.
Lost video slot bonus game
In addition to the standard mode, Lost slot game has a bonus game. Particularly favorable level opens immediately after four symbols of Eye appear. Appearing on the field, the combination of symbols brings players to a place where Dr. Dakota Bones is desperately seeking a way out, but can not choose the right door. Using your intuition, you must help the hero to leave the ill-fated temple and outwit the dried but still dangerous mummy.