Greedy Goblins slot is another creation of Betsoft Gaming, and, like all its works, this machine – is beyond praise.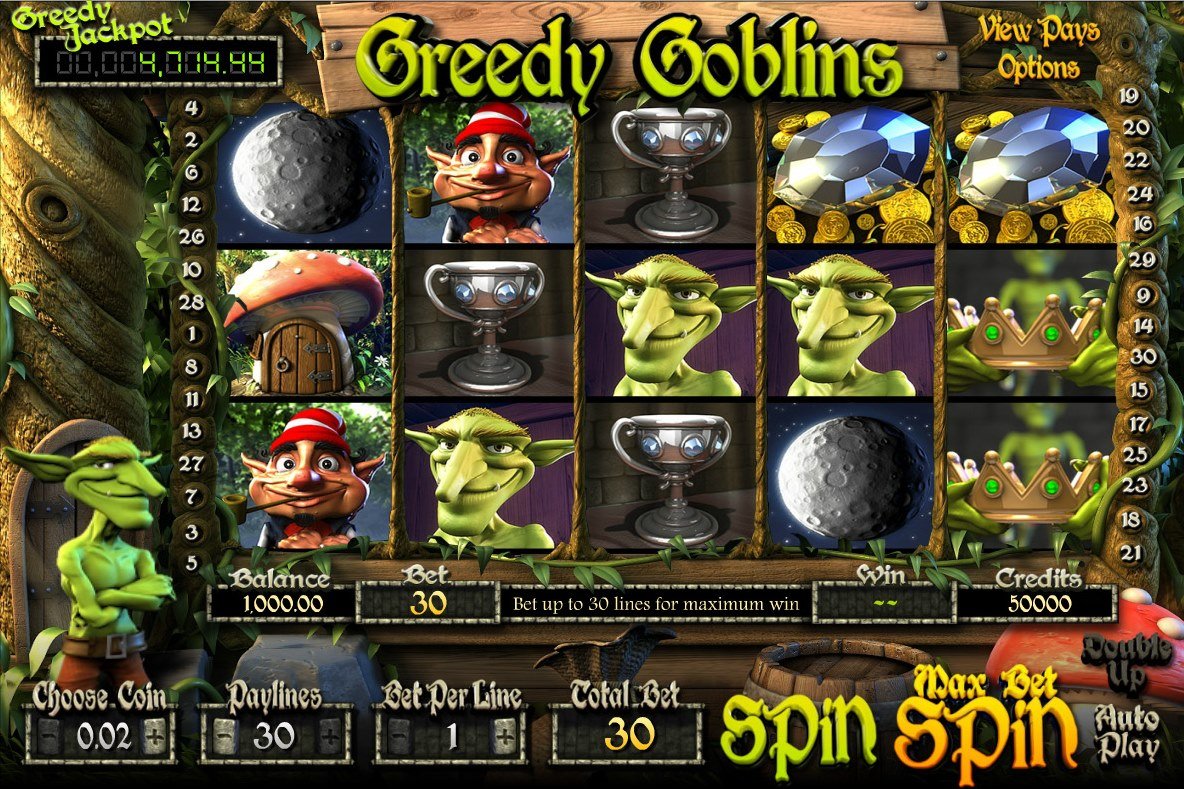 Greedy Goblins slot You have to go to Elfania – a small country, "the house of genius," as it says on the welcome sign. Residents of this town – goblins, short, green, with huge ears and nose and wretched nature, who's main feature of character is greed. They live in trees and mushrooms, and their main occupation – robbery of poor elves who live by honest labor. The protagonist f the game – the greedy goblin – will always be in front of your eyes, sometimes lighting a pipe, then scratching his ass, then follow the reels with interest, while constantly uttering some funny sounds.
If we talk about technology, the Greedy Goblins slot game has great graphics. It consists of five reels and 30 pay lines that are always active.
Here is an auto-spin function on Greedy Goblins slot.
Game symbols – the moon, "Wanted" sign, The Book of Secrets, a crown jewel of gold coins, s cup, mashroom house, gold coin, goblins, elves and a sign saying "Welcome to Elfania".
Wild symbol in Greedy Goblins slot machine is a house-tree. It substitutes any other symbol in the game. In addition, it grows on all 3 reels cells and gives free spins to the player.
Scatter symbol – the "Welcome to Elfania" sign. When three or more of these symbols appear simultaneously, it also gives you free spins and increases the prize many times. You will receive 10, 15 and 25 free spins if you get a roll of three, four or five scatter symbols.
Book of Secrets symbol launches a bonus game where Elf can multiply your winnings.
Risk game
The Greedy Goblins slot machine has a risk game (here it is called the doubling game). In case of winning bet you can play a doubling game, and either double your money or lose it. The essence of the risk-game here is to play heads and tails (in this case, Elf and Goblin) with an Elf. You will have to guess which side the coin comes up.
Bonus game
When 2 symbols of Book of Secrets appear, the bonus game starts. Here you will direct the Goblin stealing the house of Elf.
Greedy Goblins slot game can be played not only for real money but also for free.