Specifications and graphics of Aliens slot machine are amazing. One gets the feeling that this isn't a slot machine but an action adventure game.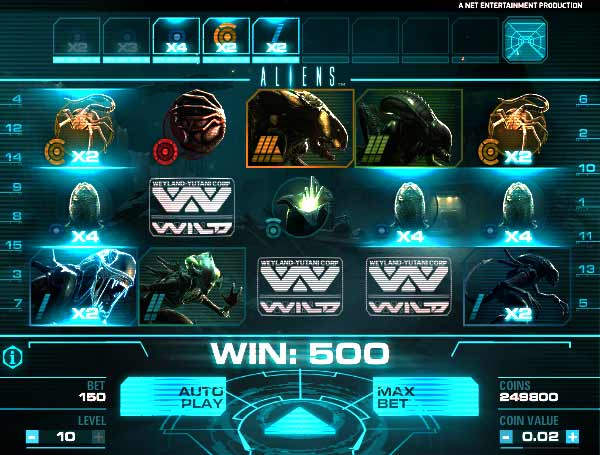 Aliens Slot In the game you are transported to a spaceship full of alien creatures from which you want to get rid of as soon as possible. Musical accompaniment tunes in the appropriate way.
Aliens slot consists of 5 reels and 15 pay lines. The rate – 0.1 $. Game symbols – alien monsters. There is a function of auto-spin with 10, 25, 50 and 100 rounds and advanced settings where you can choose to stop the auto-spin mode under any circumstances. The game consists of 3 levels:
Level 1 – the easiest, where you need to get winning combinations of gaming symbols. In addition to the win you also get a doubling, tripling or quadrupling of winnings in the next round (or several in a few winning combinations). To go to the second level you have to fill in the cells, which are located on top of the reels – those are multipliers.
In the second level of Aliens slot game you will go deeper through the dark corridors of the space ship and shoot the aliens. It can be called a bonus game. If you manage this task successfully you will get to the third level.
In the third level of Aliens slots you will meet in a fight with the Alien Queen and you need to win this fight.
Aliens slot is very interesting, exciting and you will never get bored playing it. Male half of the players will almost certainly enjoy it. You can play it in the demo version for virtual money or try your luck with real currency. Good luck!